When choosing a suit it's often an afterthought to think about the accessories that go with it. Well, I've put together a short list of tips on what to consider when wearing a navy suit.
1. Shoes – the obvious choice when matching shoes to a navy blue suit is to wear brown; with blue they just complement each other so well it's hard to look elsewhere. Worth noting is that a darker brown shoe will be easier to match with a navy suit than a light brown. Black shoes are still an option but just make sure they contrast enough, you don't want the trousers and shoes to look the same.
2. Tie – quite a flexible area of the outfit, with a navy suit I either go for a similar dark navy tone or alternatively you can choose bright colours too, especially if you're wearing a matching pocket handkerchief.
3. Belt – the belt should really follow the direction of the shoes, try and get a similar tone if you can. Don't choose a bulky belt either, try to find a smart looking thin shape with a nice buckle detail.
4. Watch – I always think wearing a watch finishes off the look of a nice suit rather well, the style doesn't need to match the shoes or belt so go for whatever style you like, an opportunity to be bold.
5. Sunglasses – maybe not so relevant for the winter months but a nice pair of shades can complete an 3 piece look for the spring and summer seasons, simple styles are a winner for me.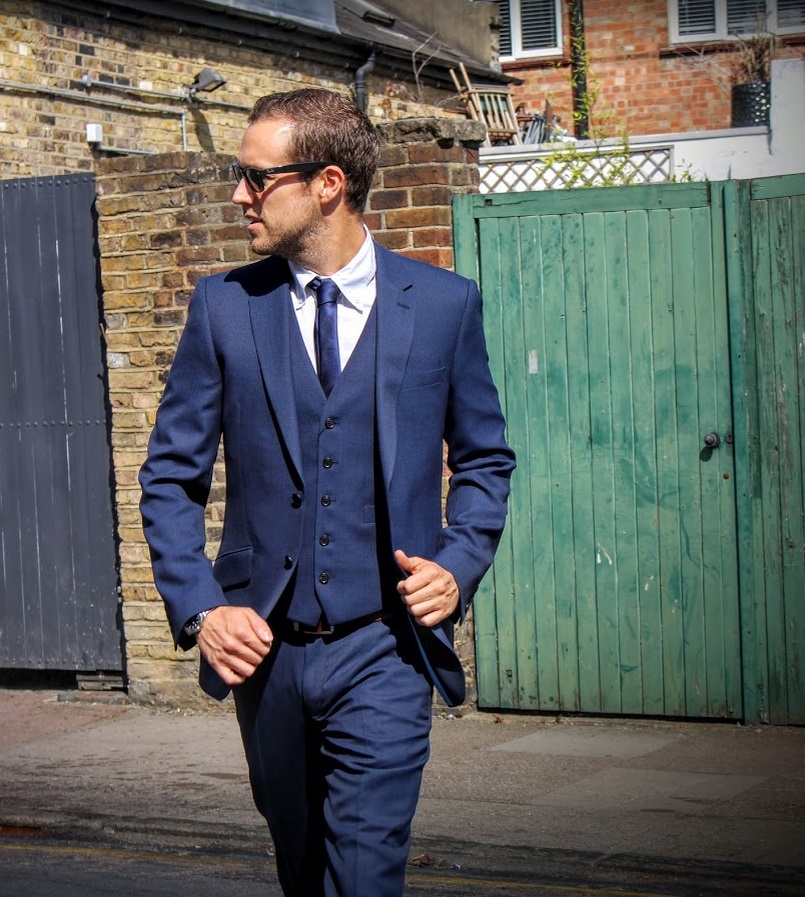 The suit I'm wearing during the shoot was provided courtesy of M&S and the suit I was wearing during the shoot is available to buy here.